Some of the most interesting architecture at the moment is being born out of restriction. SpaceTM's Mark breathes in then relaxes at House 53 in São Paulo
As cities are being halted in their spread, architects are looking inwards and creating beautiful buildings on previously ignored small landsites. Architect
Marcio Kogan
's House 53 in São Paulo is my current favourite example.
In crowded cities, privacy can be a problem. Despite being on a slim 10m by 30m site surrounded by other builds, the privacy Marcio has created is obvious, with the dual layer of wooden walls. This minimalism is beautiful yet initially quite daunting for a visitor. When the building opens, it is spectacular. The second wall reveals itself to be wooden shutters for the upper floor, necessary for privacy yet adaptable and not as rigid as the first impression makes out.
Inside, the sense of space is heightened by making the most of the long sightlines the slim site imposes. A beautifully cantilevered floating staircase and low ceiling both serve to push this further. A swimming-lane pool adds water – and a quiet place to swim – as another element in Marcio's palette of natural materials.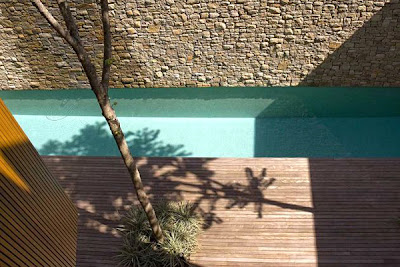 The perceived ideal for modern architecture is a clean-lined construction cocooned and isolated in beautiful woodland. That type of site is increasingly rare and Marcio shows that an inner-city space's potential problems can be flipped and be turned into its biggest assets.
Photography by Rômulo Fialdini